---
2011 Topps Allen & Ginter-Sell Sheet
Overall Rating:
Value: 
Design:
Box Price/Layout:
2011 Allen & Ginter Framed DNA Relic Checklist
Serial Numbered 1/1 – Contain an actual piece of hair.
DNA-DE Dwight Eisenhower
DNA-EAP Edgar Allen Poe
DNA-GR Geronimo
DNA-GW George Washington
DNA-JD Jefferson Davis
DNA-JFK John F. Kennedy
DNA-JK Jacqueline Kennedy
DNA-KG King George III
DNA-NB Napolean Bonaparte
DNA-RN Richard Nixon
2011 Allen & Ginter Framed Relic Checklist- FIND RELICS ON EBAYAGR-AB Adrian Beltre
AGR-AD Adam Dunn
AGR-AE Andre Ethier
AGR-AES Alcides Escobar
AGR-AG Adrian Gonzalez
AGR-AH Aaron Hill
AGR-AJ Adam Jones
AGR-AM Andrew McCutchen
AGR-AP Albert Pujols
AGR-AR Alex Rodriguez
AGR-AS Alfonso Soriano
AGR-BG Brett Gardner
AGR-BM Brian McCann
AGR-CB Carlos Beltran
AGR-CG Carlos Gomez
AGR-CJO Chris Johnson
AGR-CM Casey McGehee
AGR-CR Cody Ross
AGR-CRA Colby Rasmus
AGR-CU Chase Utley
AGR-DH Daniel Hudson
AGR-DP Dustin Pedroia
AGR-EA Elvis Andrus
AGR-EL Evan Longoria
AGR-FH Felix Hernandez
AGR-GS Grady Sizemore
AGR-HK Howie Kendrick
AGR-HP Hunter Pence
AGR-ID Ike Davis
AGR-IS Ichiro
AGR-JB Jason Bay
AGR-JBA Jose Bautista
AGR-JBR Jay Bruce
AGR-JD Johnny Damon
AGR-JE Jacoby Ellsbury
AGR-JJ Josh Johnson
AGR-JJA Jon Jay
AGR-JL James Loney
AGR-JMO Justin Morneau
AGR-JP Jorge Posada
AGR-JR Jimmy Rollins
AGR-JRE Jose Reyes
AGR-JSA Jeff Samardzija
AGR-JT Jose Tabata
AGR-JU Justin Upton
AGR-JV Joey Votto
AGR-KF Kosuke Fukudome
AGR-KM Kendry Morales
AGR-KY Kevin Youkilis
AGR-MC Matt Cain
AGR-MCB Miguel Cabrera
AGR-MR Mark Reynolds
AGR-NC Nelson Cruz
AGR-NM Nick Markakis
AGR-PF Prince Fielder
AGR-PH Phil Hughes
AGR-PK Paul Konerko
AGR-PS Pablo Sandoval
AGR-RC Robinson Cano
AGR-RDO Ryan Doumit
AGR-RH Ryan Howard
AGR-RM Russell Martin
AGR-RZ Ryan Zimmerman
AGR-SD Stephen Drew
AGR-SR Scott Rolen
AGR-TG Tony Gwynn Jr.
AGR-THA Tommy Hanson
AGR-THE Todd Helton
AGR-TT Troy Tulowitzki
AGR-WV Will Venable
AGR-YE Yunel Escobar
AGR-AJA Austin Jackson
AGR-AJB A.J. Burnett
AGR-AJP A.J. Pierzynski
AGR-AJU Ana Julaton
AGR-AMU Aimee Mullins
AGR-ARA Alexei Ramirez
AGR-ARM Aramis Ramirez
AGR-ASA Anibal Sanchez
AGR-ASO Annika Sorenstam
AGR-BB Billy Butler
AGR-BBO Brennan Boesch
AGR-BD Blake DeWitt
AGR-BJU B.J. Upton
AGR-CBU Cheryl Burke
AGR-CP Carlos Pena
AGR-CQ Carlos Quentin
AGR-CWE Chrissie Wellington
AGR-CWO Chuck Woolery
AGR-DBO Daniel Boulud
AGR-DJ Derek Jeter
AGR-DL Derrek Lee
AGR-DO David Ortiz
AGR-DS Drew Stubbs
AGR-DTU Diana Turasi
AGR-DVA Dick Vitale
AGR-ELY Evan Lysacek
AGR-EV Edinson Volquez
AGR-FC Francisco Cervelli

---

AGR-AL Adam Lind
AGR-GAU Geno Auriemma
AGR-GB Gordon Beckham
AGR-GFI Guy Fieri
AGR-GSO Geovany Soto
AGR-HMI Heather Mitts
AGR-HR Hanley Ramirez
AGR-HSO Hope Solo
AGR-IR Ivan Rodriguez
AGR-JBE Josh Beckett
AGR-JC Joba Chamberlain
AGR-JDD J.D. Drew
AGR-JLA John Lackey
AGR-JLO Jed Lowrie
AGR-JM Joe Maddon
AGR-JMC John McEnroe
AGR-JNA Jim Nantz
AGR-JOF Jo Frost
AGR-JPA Jonathan Papelbon
AGR-JS Jarrod Saltalamacchia
AGR-JVE Justin Verlander
AGR-JW Jayson Werth
AGR-KB Kyle Blanks
AGR-KPE Kyle Petty
AGR-KS Kurt Suzuki
AGR-KYA Kristi Yamaguchi
AGR-LHO Lou Holtz
AGR-MB Mark Buehrle
AGR-MBY Marlon Byrd
AGR-MFA Marc Fargione
AGR-MPA Manny Pacquiao
AGR-MT Mark Teixeira
AGR-MWA Micky Ward
AGR-NF Neftali Feliz
AGR-NLO Nancy Lopez
AGR-NS Nick Swisher
AGR-PGA Peter Gammons
AGR-PST Picabo Street
AGR-RB Ryan Braun
AGR-RD Ryan Dempster
AGR-RN Ricky Nolasco
AGR-RP Ryan Perry
AGR-RRU Rudy Ruettiger
AGR-RW Rickie Weeks
AGR-SBI Sue Bird
AGR-SC Starlin Castro
AGR-SLE Stan Lee
AGR-SRI Sanya Richards
AGR-TC Tyler Colvin
AGR-TH Tim Hudson
AGR-THO Tim Howard
AGR-TSC Tim Scheif
AGR-TW Tim Wakefield
AGR-XN Xavier Nady
2011 Allen & Ginter Framed Relic ChecklistSP LIST COMING SOON!Adrian Gonzalez
Aimee Mullins – Paralympics
Al Gore – Former Vice President
Albert Pujols
Ana Julaton – Boxing
Andre Ethier
Andrew McCutchen
Angel Pagan
Angelo Dundee – Boxing Trainer
Annika Sorenstam – Golf
Aroldis Chapman
Brent Morel
Brett Wallace
Brian Matusz
CC Sabathia
Chase Utley
Cheryl Burke – Dancing w/ the Stars
Chone Figgins
Chris Sale
Chrissie Wellington – Iron Man
Chuck Woolery – Game Show Host
Clay Buchholz
Daniel Boulud – Chef
Daniel Hudson
Diana Turasi – W. Basketball
Dick Vitale – Basketball
Dirk Hayhurst – Author
Eric Jackson – Kayaking
Evan Lysacek – Figure Skating
Freddy Sanchez
Geno Auriemma – W. Basketball Coach
Gio Gonzalez
Guy Fieri – Minute to Win It Host
Heather Mitts – Soccer
Hope Solo – Soccer
Jake Lamotta – Boxing
Jason Heyward
Jason Kendall
Jose Bautista
Josh Hamilton
Josh Johnson
Jim Nantz – Broadcaster
Jo Frost – Supper Nanny Host
Joe Mauer
John McEnroe – Tennis
Jose Tabata
Justin Upton
Keith Olbermann – Former ESPN Host
Kristi Yamaguchi – Figure Skating
Kyle Petty – NASCAR
Larry Holmes – Boxing
Lou Holtz – Legendary Notre Dame Coach
Manny Pacquiao – Boxing
Marc Fargione – Iron Chef Winner
Marlon Byrd
Mat Hoffman – BMX Biker
Matt Guy – King of Cornhole Winner
Max Scherzer
Micky Ward – Boxing
Miguel Cabrera
Mike Leake
Mike Minor
Nancy Lopez – Golf
Nick Markakis
Peter Gammons – Broadcaster
Picabo Street – Sking
Rafer Johnson – Decathlete
Randy Wells
Ron Turcotte – Jockey
Roy Halladay
Rudy Ruettiger – "Rudy, Rudy, Rudy!"
Ryan Howard
Sanya Richards – Track & Field
Sergio Mitre
Shane Victorino
Shawn Michaels – WWE Wrestler
Stan Lee – Founder Marvel Comics
Starlin Castro
Sue Bird – W. Basketball
Tim Howard – Soccer
Tim Scheif – Freerunning & Parkour
Ubaldo Jimenez
Wee Man – Stuntman
150 Framed Cloth Cards #'d /101 Carlos Gonzalez
5 Aroldis Chapman
7 Mickey Mantle
10 Miguel Cabrera
13 Brett Anderson
14 Adrian Beltre
16 Gordon Beckham
20 Jeremy Hellickson
21 Logan Morrison
25 Nelson Cruz
29 Johnny Cueto
30 Hanley Ramirez
35 Adam Dunn
38 Angel Pagan
39 Stephen Drew
41 Carlos Santana
42 Heath Bell
46 Edinson Volquez
48 Francisco Liriano
50 Carl Crawford
53 Chipper Jones
54 Austin Jackson
55 Dustin Pedroia
57 Derek Jeter
58 Alcides Escobar
61 Brian Roberts
62 Alfonso Soriano
65 Ryan Howard
66 Starlin Castro
68 Max Scherzer
69 Neftali Feliz
70 Evan Longoria
73 Brandon Morrow
74 Torii Hunter
75 Jose Reyes
80 Joey Votto
85 Chris Sale
88 David Ortiz
90 Roy Halladay
95 Dan Uggla
100 Albert Pujols
103 Andres Torres
105 Ubaldo Jimenez
109 Martin Prado
110 Jake McGee
113 Miguel Montero
115 Shin-Soo Choo
116 Josh Beckett
120 Adr1an Gonzalez
125 Clayton Kershaw
129 Kelly Johnson
130 Robinson Cano
134 Matt Cain
137 Carlos Beltran
138 Matt Garza
140 Felix Hernandez
141 Vernon Wells
142 Michael Young
143 Carlos Zambrano
144 Jorge Posada
145 Victor Martinez
146 John Danks
150 Troy Tulowitzki
152 Jordan Zimmermann
155 Josh Johnson
157 Corey Hart
158 Billy Butler
160 David Wright
162 Mat Latos
163 Ian Kennedy
168 Carlos Marmol
169 Dan Haren
170 Tim Lincecum
171 John Lackey
173 Mariano Rivera
175 Jose Bautista
180 Kyle Drabek
181 Mark Buehrle
182 Clay Buchholz
184 Pedro Alvarez
185 Justin Upton
195 Tommy Hanson
196 Jered Weaver
197 Jay Bruce
198 Freddie Freeman
200 Josh Hamilton
202 Nick Swisher
203 Aaron Hill
204 Jim Thome
205 Kendry Morales
210 Chase Utley
212 Aramis Ramirez
215 Andrew McCutchen
217 Shaun Marcum
219 Johan Santana
220 Prince Fielder
226 Andre Ethier
230 Mark Teixeira
233 Ben Zobrist
235 Cole Hamels

---

237 Carlos Quentin
240 Matt Holliday
241 Ike Davis
245 Brian McCann
246 Ian Kinsler
247 Yadier Molina
250 Ichiro
253 Mike Minor
255 David Price
256 Hunter Pence
257 Andrew Bailey
260 Alex Rodriguez
261 Carlos Pena
264 Adam Jones
265 Buster Posey
270 Kevin Youkilis
275 Justin Verlander
276 Desmond Jennings
280 Adam Wainwright
281 Adam Lind
287 Yovani Gallardo
290 Cliff Lee
295 Chris Carpenter
300 Ryan Braun
301 Gio Gonzalez
304 Madison Bumgarner
305 Justin Morneau
307 Ryan Ludwick
308 Jhonny Peralta
309 Kurt Suzuki
310 Matt Kemp
311 Ian Stewart
314 Nick Markakis
315 Jayson Werth
316 Manny Ramirez
317 Brian Matusz
318 Brett Wallace
319 Jon Niese
320 Jon Lester
321 Mark Reynolds
322 Trevor Cahill
323 Orlando Hudson
324 Domonic Brown
325 Mike Stanton
330 CC Sabathia
335 Jason Heyward
337 Drew Storen
339 Miguel Tejada
340 Ryan Zimmerman
342 Mike Pelfrey
344 Danny Valencia
345 Zack Greinke
350 Joe Mauer
2011 Allen & Ginter Cabinet Relics: All 1/1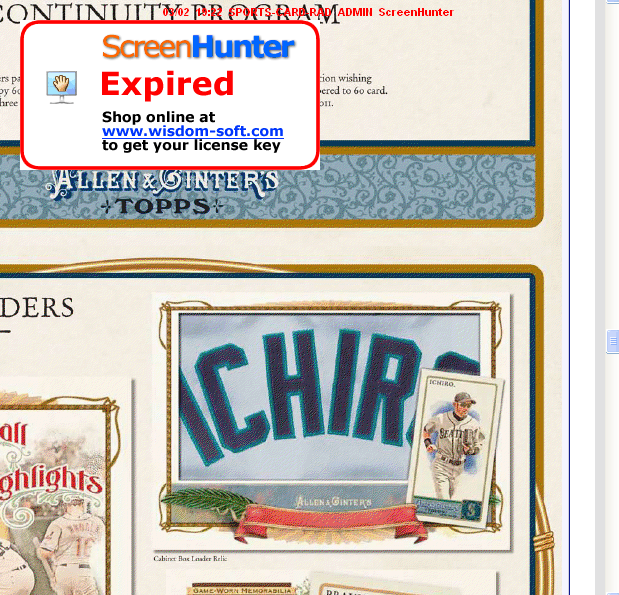 CBR-IS Ichiro
CBR-AP Albert Pujols
CBR-RC Joey Votto
CBR-RB Ryan Braun
CBR-TL Tim Lincecum
CBR-JM Joe Mauer
CBR-RH Ryan Howard
CBR-JH Josh Hamilton
CBR-RHA Roy Halladay
CBR-BP Chase Utley
2011 Allen & Ginter N43 Relic Cards: All #'d /15
N43BA-AG Adrian Gonzalez
N43BA-BP Buster Posey
N43BA-CL Cliff Lee
N43BA-CU Chase Utley
N43BA-EL Evan Longoria
N43BA-FH Felix Hernandez
N43BA-ID Ike Davis
N43BA-JH Jason Heyward
N43BA-JHA Josh Hamilton
N43BA-MC Miguel Cabrera
2011 Allen & Ginter N43 Relic Auto Cards: All #'d /5
N43BAR-BP Buster Posey
N43BAR-CU Chase Utley
N43BAR-EL Evan Longoria
N43BAR-FH Felix Hernandez
N43BAR-JH Jason Heyward
2011 Allen & Ginter Booklet Relic or Auto Cards: All #'d 1/1
AGBC-1 Joe Mauer/Buster Posey
AGBC-2 Ichiro/Felix Hernandez
AGBC-3 Ryan Howard/Prince Fielder
AGBC-4 Carl Crawford/Adrian Gonzalez
AGBC-5 Albert Pujols/Matt Holliday
AGBC-6 David Wright/Ryan Zimmerman
AGBC-7 Alex Rodriguez/Mark Teixeira
AGBC-8 Joe Mauer/Justin Mourneau
AGBC-9 Victor Martinez/Carlos Santana
AGBC-10 Ryan Howard/Adam Dunn
AGBC-11 Nelson Cruz/Matt Kemp
AGBC-12 Albert Pujols/Miguel Cabrera
AGBC-13 Hanley Ramirez/Jose Reyes
AGBC-14 Robinson Cano/Dan Uggla
AGBC-15 Chase Utley/Jimmy Rollins
AGBC-16 Troy Tulowitzki/Hanley Ramirez
AGBC-17 Joey Votto/Jay Bruce
AGBC-18 Evan Longoria/Kevin Youkilis
AGBC-19 Dustin Pedroia/Ian Kinsler
AGBC-20 Ryan Braun/Matt Holliday
AGBC-21 Andrew McCutchen/Pedro Alvarez
AGBC-22 Roy Halladay/Cliff Lee
AGBC-23 Jason Heyward/Mike Stanton
AGBC-24 Joe Mauer/Buster Posey
AGBC-25 Josh Hamilton/Joey Votto
2011 Allen & Ginter Originals Cards: All #'d 1/1 and are the painted cards the set was made from
JZO-1 Zack Greinke
JZO-2 Cliff Lee
JZO-3 Josh Johnson
JZO-4 David Price
JZO-5 Carl Crawford
JZO-6 Adrian Gonzalez
JZO-7 Jayson Werth
JZO-8 Adam Dunn
JZO-9 Josh Hamilton
JZO-10 Robinson Cano
JZO-11 Billy Butler
JZO-12 Victor Martinez
JZO-13 Manny Ramirez
JZO-14 Shin-Soo
JZO-15 Jose Bautista
---

2011 Upper Deck Goodwin Champions-Sell Sheet
Overall Rating: 7/10
Value: 7/10, Overpriced for the most part. Even the really rare Sport Royalty Autograph hits aren't earning much. The Magician cards are nice finds when you get one but they don't sell as well as you would expect. Overall this year's Goodwin was a bit of a dissapointment, not unlike Ginter. The presidential paintings add value but they are so rare they can hardly be counted.
Design: 6/10, Not a fan of the autoraphed cards. They were very plain looking and the GU pieces were very small as well and could have been worked into the design better. The animal and bug cards were a nice tough and the magician parallel was cool as well saving this set from absolute disgust. The art gallery style feel to the cards would be nice if all of the athletes didn't look like wax figures. Painted looking cards belong on canvas.
Checklist: 8/10, A lot of legends of world and sport, a lot of no name WTF's. See below for the Auto and Memorabillia checklist. The base set checklist adds presidents and other cool names so that is nice.
Box Price/Layout: $70-80 for three hits in 20 packs. Most of the hits can easily be had for under $5. These boxes should continue to drop in price until they end up in the $60 range. It was pretty heavily produced as well.
Autograph and Memorabilia Checklist
Find Goodwin Champions Autos on ebay
AUTOGRAPHS (overall odds 1:20 hobby; 84 total cards)
GROUP A (1:1,577 hobby)
A-AO Alexander Ovechkin
A-DR David Robinson
A-FR Walt Frazier
A-GH Grant Hill
A-JB Johnny Bench
A-LB Larry Bird
A-MA Magic Johnson
A-NR Nolan Ryan
A-OL Hakeem Olajuwon
A-RC Randy Couture
A-RD Derrick Rose
A-TW Tiger Woods
GROUP B (1:729 hobby)
A-CF Carlton Fisk
A-HA Mia Hamm
A-IL Igor Larionov
A-JA Bo Jackson
A-JT John Tavares
A-LO Lou Brock
A-MU Stan Musial
A-PA Chris Paul
A-RO Dennis Rodman
A-RS Ryne Sandberg
A-WF Whitey Ford
A-WG Wayne Gretzky
GROUP C (1:339 hobby)
A-AB Amanda Beard
A-BM Bode Miller
A-BO Jon "Bones" Jones
A-BW Bill Walton
A-CA Steve Carlton
A-CN Cam Neely
A-HO Gordie Howe
A-LD Landon Donovan
A-LJ LeBron James
A-MJ Michael Jordan
A-MM Manny Machado
A-MW Michelle Wie
A-SC Sidney Crosby
GROUP D (1:246 hobby)
A-AS Annika Sorenstam
A-GL Greg Louganis
A-JM Julia Mancuso
A-JR Jim Rice
A-NL Nastia Liukin
A-OR Bobby Orr
A-RL Ryan Lavarnway
A-TP Tony Perez
A-WA Bubba Watson
GROUP E (1:72 hobby)
A-AW Abby Wambach
A-BE Layne Beachley
A-BL Bill Laimbeer
A-CP Candace Parker
A-DH Damien Hobgood
A-HS Hope Solo
A-HW Hayley Wickenheiser
A-LP Laffit Pincay Jr.
A-LW LeVon Washington
A-MD Matt Danowski
A-ML Johnny Miller
A-OC Dennis "Oil Can" Boyd
A-PR Paul Rabil
A-SM Mike Smith
A-SP Mark Spitz
A-TG Tyson Gay
A-TH Tim Hardaway
GROUP F (1:35 hobby)
A-AA Amber & Angela Cope
A-BS Billy Sims
A-CG Cammi Granato
A-CH Cody Hawn
A-CJ C.J. Hobgood
A-GB Gretchen Bleiler
A-HM Hunter Mahan
A-JE Janet Evans
A-JG Jonathan Garcia
A-JL John Lamb
A-JO Marion Jones
A-KK Kasey Keller
A-KV Kolbrin Vitek
A-LI Brittany Lincicome
A-MO Mike Olt
A-PE Carlos Perez
A-PL Pierre Lueders
A-PT Peter Tago
A-RM Ramon Morla
A-RY Robinson Yambati
A-YV Yordano Ventura
MEMORABILIA (overall 1:13 hobby; 51 cards)
GROUP A (1:14,613 hobby)
M-FDR Franklin Delano Roosevelt
M-HT Harry Truman
M-TR Theodore Roosevelt
GROUP B (1:179 hobby)
M-CD Clyde Drexler
M-DR David Robinson
M-JL Julius Erving
M-RD Dennis Rodman
M-RO Derrick Rose
M-SC Sidney Crosby
M-SY Steve Yzerman
M-TW Tiger Woods
M-WG Wayne Gretzky
GROUP C (1:31 hobby)
M-AI Troy Aikman
M-AM Alonzo Mourning
M-AO Alexander Ovechkin
M-AW Abby Wambach
M-BS Barry Sanders
M-EH Earl Campbell
M-GH Grant Hill
M-OL Hakeem Olajuwon
M-HO Hope Solo
M-JE John Elway
M-JM Johnny Miller
M-JO Magic Johnson
M-JR Jerry Rice
M-LB Larry Bird
M-LJ LeBron James
M-MD Matt Danowski
M-ME Mark Messier
M-MJ Michael Jordan
M-ML Mario Lemieux
M-PR Paul Rabil
M-RY Patrick Roy
M-YO Steve Young
GROUP D (1:22 hobby)
M-BJ Bo Jackson
M-CN Cam Neely
M-CP Chris Paul
M-DD DeWayne DeRosario
M-EL Eric Lindros
M-IL Igor Larionov
M-KK Kasey Keller
M-KS Kyle Skipworth
M-LD Landon Donovan
M-MC Michael Choice
M-MH Hunter Mahan
M-MM Manny Machado
M-NG Natalie Gulbis
M-PT Peter Tago
M-RB Ray Bourque
M-RW Russell Westbrook
M-TA John Tavares
MEMORABILIA DUAL-SWATCH VARIATIONS (overall 1:320 hobby; 11 cards)
GROUP A (1:87,680 hobby)
M2-TR Theodore Roosevelt
GROUP B (1:8,768 hobby)
M2-TW Tiger Woods
GROUP C (1:2,923 hobby)
M2-AO Alexander Ovechkin
M2-SY Steve Yzerman
GROUP D (1:877 hobby)
M2-JE John Elway
M2-LD Landon Donovan
M2-MJ Michael Jordan
M2-SC Sidney Crosby
GROUP E (1:585 hobby)
M2-JM Johnny Miller
M2-LJ LeBron James
M2-MM Manny Machado
MUSEUM COLLECTION RELICS (overall 1:2,237 hobby; nine cards)
GROUP A (1:54,800 hobby)
MR-AL Abraham Lincoln (Desk)
MR-AO Annie Oakley (Gun Handle)
MR-WHP The White House (Plaque)
GROUP B (1:16,237 hobby)
MR-NB Napoleon Bonaparte (Chair)
MR-WHB The White House (Wood)
GROUP C (1:6,959 hobby)
MR-LBJ Lyndon B. Johnson (Jacket)
MR-LN Lord Horatio Nelson (Battle Flag)
MR-SS Spirit of St. Louis (Medical Gauze)
GROUP D (1:4,473 hobby)
MR-EV Edward VIII (Handkerchief)