For those that don't know Ryan Tannehill already, he is ranked as a top 5 QB heading into the draft. Teams like Kansas City and Miami are be eyeing him in the 2nd round if he lasts until then. It is widely posited that he will be a late first rounder but I wouldn't hold my breath on that if I were you. If you are a fan of any other team in need of QB you would be very happy to have one of those two take him. He's not very accurate, not very experienced, and has a slow-medium release. He is pretty athletic and sees the field well it seems. He saw a lot of good spots against LSU in the Cotton Bowl last year but missed a lot of them. A year has passed since then but the clips I've seen don't appear to provide evidence that his accuracy has gotten all that much better. All that being said he was only a few points away from taking T&AM to a BCS bowl this year with a lot of tough, close losses.
Ryan will be featured in the upcoming release of the SAGE low series. See the full checklist here.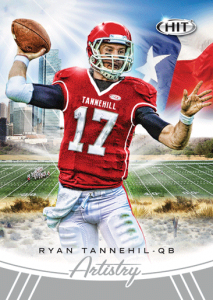 Mike Sherman recently compared Ryan Tannehill to Aaron Rodgers and Brett Favre saying he makes everyone around him better. While it seems a bit outlandish it is important to note that Texas A&M had several close and tough losses this season otherwise they would have been in contention for the Big 12 title. OSU by 1, Arkansas by 4, Mizzou by a TD, Texas by 2 and K-State by a FG in 4 OT's.
Here he is in the 2011 Cotton Bowl, scout for yourself.

Lastly it is important to consider that Tannehill is definitely a winner. Even if he loses on the field he gets to come home to this, his fiance: