Take a look at this Young Gun checklist:
201 Devante Smith-Pelly Anaheim
202 Maxime Macenauer Anaheim
203 Greg Nemisz Calgary
204 Roman Horak Calgary
205 Justin Faulk Carolina
206 Marcus Kruger Chicago
207 Brandon Saad Chicago
208 Gabriel Landeskog Colorado
209 Cameron Gaunce Colorado
210 John Moore Columbus
211 David Savard Columbus
212 Cam Atkinson Columbus
213 Tomas Vincour Dallas
214 Ryan Nugent-Hopkins Edmonton
215 Anton Lander Edmonton
216 Teemu Hartikainen Edmonton
217 Erik Gudbranson Florida
218 Brett Bulmer Minnesota
219 Aaron Palushaj Montreal
220 Alexei Yemelin Montreal
221 Raphael Diaz Montreal
222 Brendon Nash Montreal
223 Jonathon Blum Nashville
224 Blake Geoffrion Nashville
225 Craig Smith Nashville
226 Adam Henrique New Jersey
227 Adam Larsson New Jersey
228 Tim Erixon New York
229 Mika Zibanejad Ottawa
230 Colin Greening Ottawa
231 Patrick Wiercioch Ottawa
232 Erik Condra Ottawa
233 Stephane Da Costa Ottawa
234 Sean Couturier Philadelphia
235 Matt Read Philadelphia
236 Erik Gustafsson Philadelphia
237 Joe Vitale Pittsburgh
238 Harri Sateri San Jose
239 Alex Stalock San Jose
240 Brett Connolly Tampa Bay
241 Jake Gardiner Toronto
242 Joe Colborne Toronto
243 Matt Frattin Toronto
244 Ben Scrivens Toronto
245 Cody Hodgson Vancouver
246 Yann Sauve Vancouver
247 Carl Klingberg Winnipeg
248 Mark Scheifele Winnipeg
249 Paul Postma Winnipeg
250 Checklist (Nugent-Hopkins, Landeskog, Larsson)
Of the 50 Young Guns included in Series 1 there are roughly 15-20 that will sell for $10 or more with 5-6 of them selling for near the price of a box. Another thing to consider is that these will presumably be the first legit Winnipeg Jets Rookie Cards in 2011-12.  Young Guns Rookie Cards hold their value very well year in and year out. With YG's falling six per box  with parallels including Canvas (1:48), Exclusives #'d /100, and High Gloss #'d /10 this product is loaded with value. Not to mention the design this year is very clean and nice looking.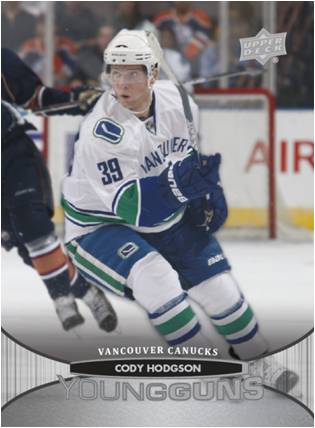 The best pre-order price we can find on the net is at DCS Sportscards which offers them for $64.95 per box or $192 for a three box lot.